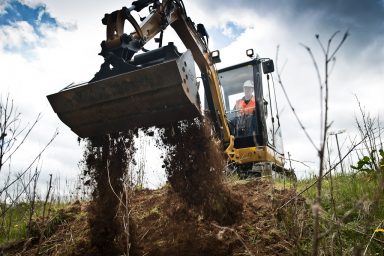 Railroad maintenance and repair crews call for reliable equipment. In some cases, buying used railroad equipment with low miles is a great way to save money while still gaining the performance of a late-model build. Project managers can boost efficiency when they turn to MacAllister Railroad Machinery to buy used.
MacAllister is your source for high-quality, well-maintained used equipment from the industry's top manufacturers such as Caterpillar, JLG, Gradall, Sullair, Miller and more.
Every piece of used equipment we sell receives a thorough inspection by a trained service technician. You can rest assured that a used equipment purchase from MacAllister will be among the best investments you can make.
View our used equipment inventory
Shopping Our Used Hi-Rail Equipment Online
MacAllister Railroad Machinery makes it easy to find used railroad maintenance equipment at prices that fit your budget. Our team is upfront about the condition of all listings, and we include photos of our in-stock models for an up-close view. We know that no two days on-site look exactly the same, so you'll find equipment for many different tasks all under one roof.
You can check out our used hi-rail equipment at a nearby location in your area. We invite you to stop by any of our stores to see some of the following machines firsthand:
Backhoes
Compaction rollers
Cranes and boom trucks
Excavators
Mini excavators
Dump trucks and trailer attachments
Wheel loaders
Why MacAllister Railroad Machinery for Used Railroad Equipment?
Our team wants you to be happy with our used railroad equipment before you buy, so we do our best to collect useful information about each listing. We'll let you know the logged hours on a machine, model numbers and data on any included work tools before you buy.
MacAllister Railroad Machinery has simple financing plans in place to make payments easy. Purchase or lease one piece of equipment or an entire fleet. We offer competitive rates that will work for you.
Reach Out to Us for Used Hi-Rail Equipment
Want to know more about one of our used equipment listings? MacAllister Railroad Machinery has been serving our local community for over 75 years. Complete a contact form for further information about our used railroad equipment.