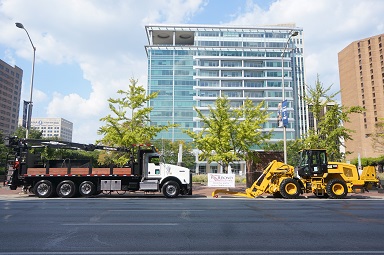 On average, MacAllister Railroad Machinery's rental fleet is 22 months old. Our competitors' fleets average four years of age. How likely is it that a four-year-old piece of equipment will break down? Are you more likely to have an error-free job with newer equipment?
Yes, the younger the fleet, the better. Whether it be a Cat® or JLG, you're certain to have a low hour, clean and well-functioning machine delivered on time when you work with our team.
We have high-quality railroad equipment rentals and new and used offerings in the following categories:
Hi-Rail Equipment Rentals Save You Money
MacAllister Railroad Machinery has been working with businesses in Michigan and Indiana for over 75 years. We understand that the railroad industry is always changing, so our railroad equipment rentals are useful for taking on special jobs. Expand your fleet for short-term needs with rental plans that help you save money.
Pick up a rental by the day, week or month. We have highly trained technicians check all equipment before delivery to ensure everything works as it should.
Backhoe Rentals
Dig, prepare sites and move materials from point A to point B. MacAllister Railroad Machinery offers genuine Cat backhoes and the rail-specific tools needed to finish the job.
Excavator Rentals
Some excavator rentals arrive with back-up cameras and anchor-removal tools for safety. Hi-rail excavator equipment rentals allow you to clear rail paths and keep worksites clean.
Wheel Loader Rentals
Move easily over concrete, gravel and tracking with our Cat 926, 938 and 962 models. We have options with various power levels for hard jobs.
Why Rent or Purchase From MacAllister Railroad Machinery?
The experts at MacAllister Railroad Machinery are dedicated to helping you find solutions for small and large-scale tasks. We don't rest until you are 100% satisfied with our services. We treat all of our clients like family, and we work to provide the best customer service anywhere.
Reach Out to Us to Learn More About Railroad Maintenance Equipment
MacAllister Railroad Machinery benefits businesses within Michigan and Indiana with 24/7 on-call support, on-time equipment deliveries and technical knowledge regarding our hi-rail equipment rentals. Complete a contact form with us today to learn more about how we can help you perform at your best on your next project.